Email address copied to clipboard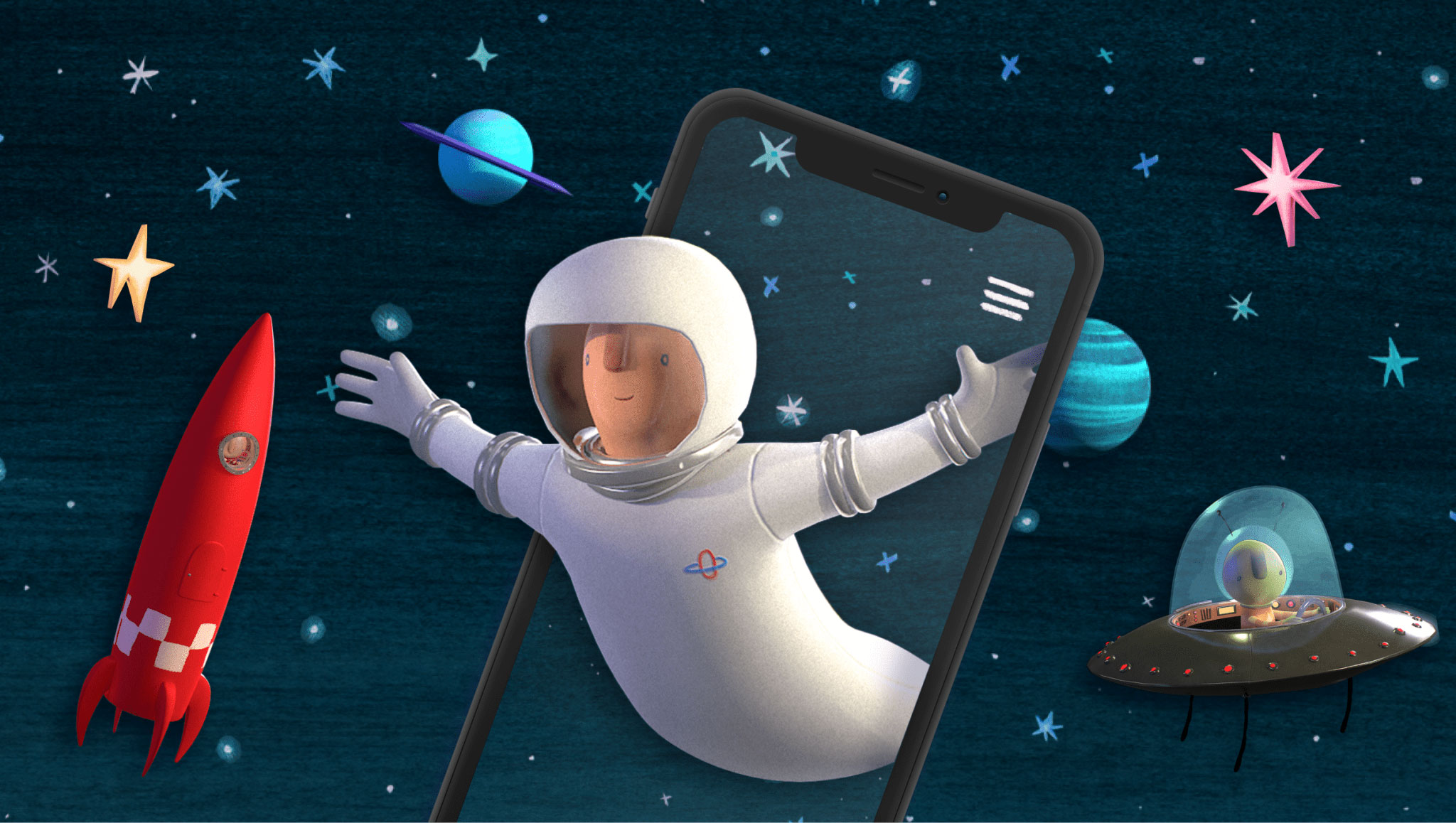 Our Place in Space – Designing a Journey through Space and Time
Published by: Pearse O'Neill
|
7
min read
It is only in the past couple of years that Augmented Reality has gone from being a much-hyped emerging technology, to a mature one, with amazing examples of AR applications now being rolled out across the world – including here in Northern Ireland.
Two years ago, Big Motive were engaged as part of a creative consortium to create a worldwide digital experience for Our Place in Space (OPIS), one of 10 awe-inspiring ideas involved in UNBOXED 2022, a festival celebrating STEAM (science, technology, engineering, arts and maths) across the UK.

Recently there has been an emerging thought that science, technology, engineering and maths (STEM) concepts should integrate with the arts (STEAM). Humanities and specifically creativity enhance STEAM to bridge the gap between imagination and learning.
Presented by Nerve Centre, OPIS is described as "an astonishing journey through our solar system, recreated as a 10km-long sculpture trail exploring what it means to live life on Earth" designed by artist and children's author, Oliver Jeffers.
The project includes an interactive Augmented Reality (AR) app, and major learning and events programmes. We were asked to harness AR technology to enhance the trail and make it accessible to everyone everywhere.
The project is based on the idea that while the world is made up of borders and lines that separate us – something we in Northern Ireland have a unique perspective on – when you zoom out into outer space, all of these divisions seem petty and insignificant. OPIS is about experiencing this perspective but with our feet still on the ground.
The creative solution is a combination of models of the planets, which you can actually see and touch; a walk that helps us to understand the relative space and distance between the planets; and an augmented reality mobile app that adds an additional layer of audio and animation bringing the project to life.
As an Interaction Designer early in my career, getting to be involved with a multi-faceted design project like this was an amazing opportunity. Our Place in Space has provided endless lessons in design practice, with some notable distinctions to more typical UX challenges.
Here are a few of the challenges we faced and the key takeaways from them..
Map the experience in as much detail as possible
Our challenge was to design an app that would enhance the trail's physical sculpture as well as creating a fully immersive experience that could be accessed from anywhere in the world by anyone.
In order to understand, scrutinise and iterate each of the planetary sculptures, we started by describing a set of outcomes that we wanted users to experience. We then worked backwards to define the steps of the journey to achieving these goals.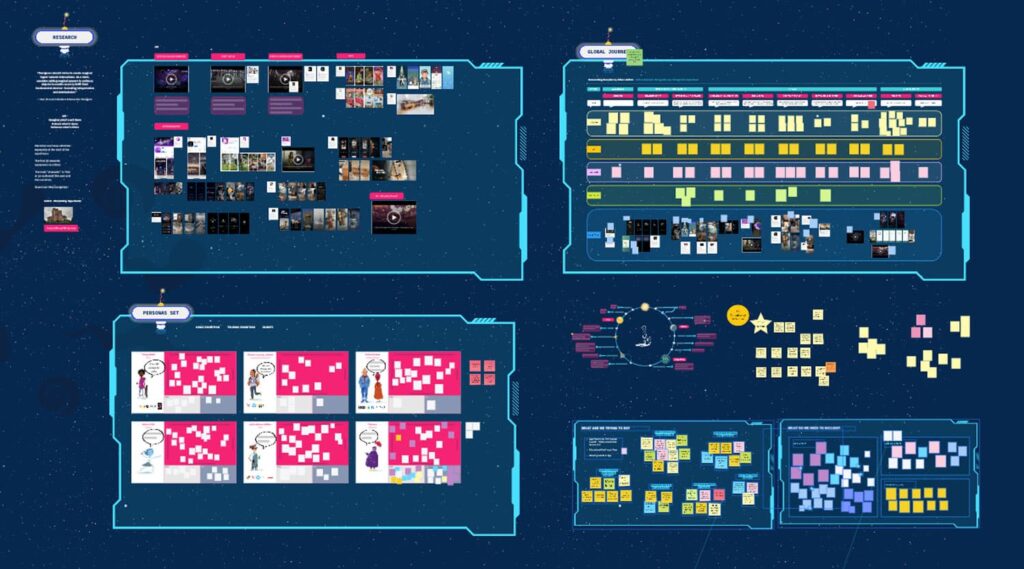 For every planetary sculpture, we considered what it would look like visually, what it would sound like and ask what was the user learning? This gave us ample material to test ideas with users, gaining valuable feedback to implement into the app.
A key learning from our user testing was, to create a truly accessible experience, we needed to make Our Place in Space available to access from home. For some people, walking 10km isn't an option, so we had to design a solution that could replicate as much of the solar system walking trail, in the comfort of your living room. Without user testing, this step could have been easily missed and our goal wouldn't have been met.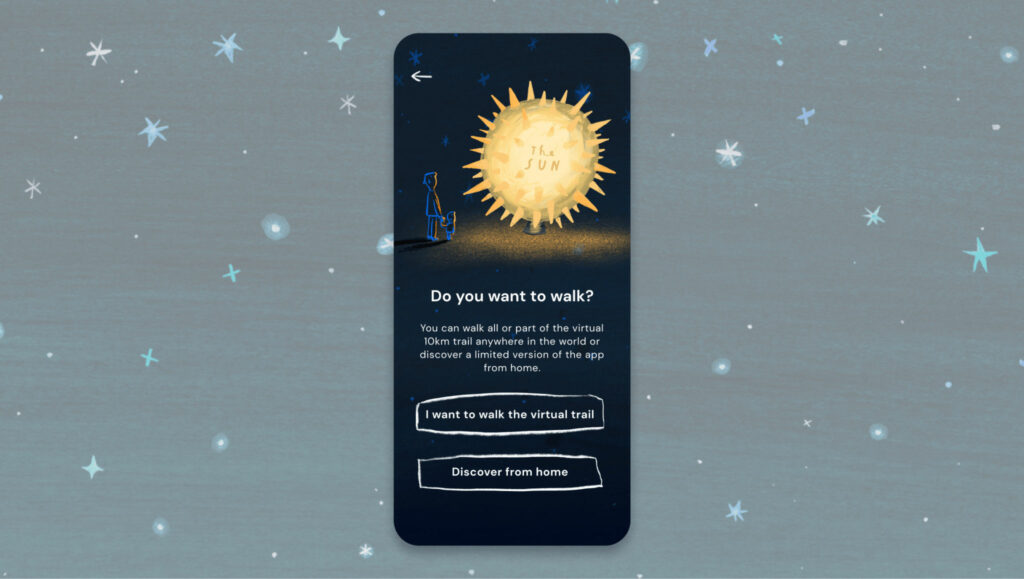 Context is key
When you are deeply involved in an app's development, it is easy to forget that first-time users may have little to no knowledge of how the app works. To help orientate users when first launching the app, we included a short film to introduce the concept along with a 'How it Works' screen. User testing informed us that these introductions are often skipped, so we also provided visual prompts to remind users of their next steps.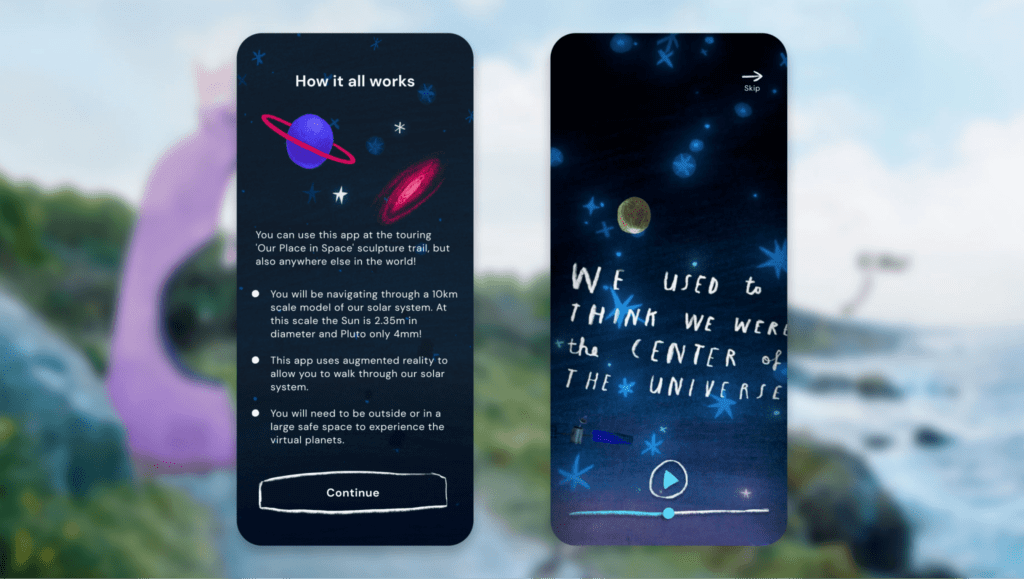 Augmented Reality is something many people will have interacted with using their smartphones, such as through filters on Snapchat or Instagram.
By 2024, there will be an estimated 1.7 billion mobile AR user devices worldwide, a rise of 1.5 billion from the 200 million seen in 2015

Global mobile augmented reality (AR) user devices 2019-2024, Thomas Alsop
Augmented Reality is still a relatively new and continually evolving technology, especially the way it is utilised in Our Place in Space. Key interactions can be missed without prompting the user at the right time with the right information. We made sure to take the opportunities to prompt and test with users to create an intuitive experience.
Avoid overwhelming users and their devices
With the potential that Augmented Reality can bring to an experience, it is easy to get carried away with the possibilities and overwhelm your users. If you have a well-considered core experience, with beautiful assets and interactions, you're off to a great start.
Segmenting the Our Place in Space experience into chapters that serve as a set of distinct mini experiences. These mini-experiences are carefully placed throughout the 10km trail, with moments of valuable interaction, whilst also allowing time for the users to put their device away and appreciate the vast distances between each of the planets. Remember that smartphone screens are only so big, so creating highly complex environments creates the risk of users missing valuable parts of the experience.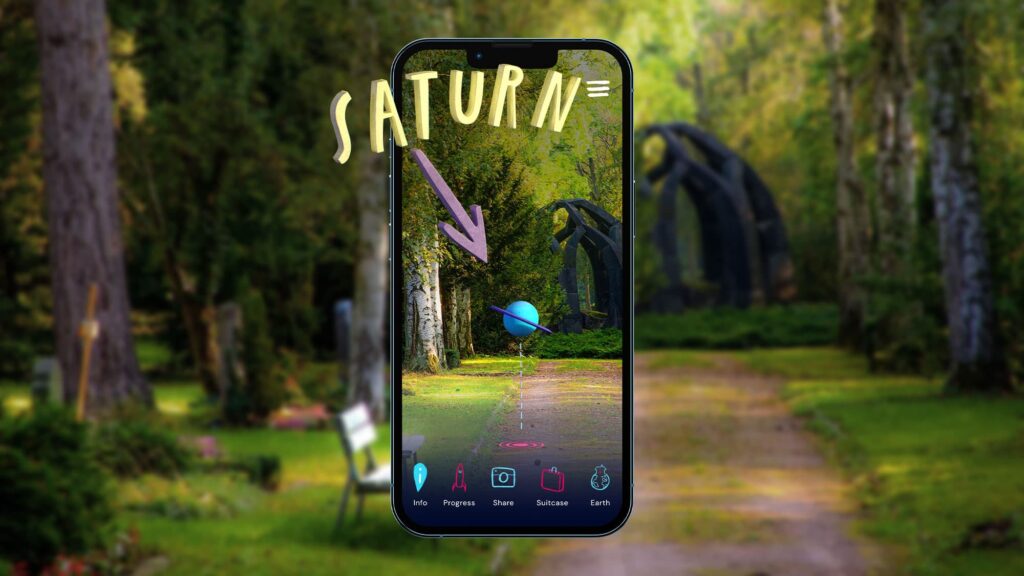 Incorporating too many features can also slow down your users' smartphones and drain their battery. We recommended focusing on creating an AR story that users can experience in stages, allowing them to better understand the story you are telling and preventing AR fatigue.
Download Our Place in Space now!
Seeing Our Place in Space grow from an idea to its recent release on the app store has been a career highlight for me. The learnings from this unbelievable project will carry through in our work at Big Motive for years to come.
You can download the Our Place in Space now from the App Store and Google Play Store and experience the scaled solar system from anywhere in the world!
Notes
Thank You
We would like to give a massive thank you to the entire creative consortium we have worked closely with over the last almost 2 years to make Our Place in Space a reality. The app would not have been possible without the hard work of Taunt, Yellow Design, Jeffers and Sons, Hamilton Robson, Die Hexen, Nerve Centre, Stephen Smartt, and Urban Scale Interventions.
About Unboxed
UNBOXED is a celebration of creativity taking place across the UK in 2022, designed to reach millions and bring people together. It features free large-scale events, installations and globally accessible digital experiences in the UK's most ambitious showcase of creative collaboration. Produced by some of the brightest minds in science, technology, engineering, arts and maths, UNBOXED features ten major multi-site and digital creative projects that share new ideas and possibilities for the future. Events and activities take place from 1 March to 2 October 2022 – from the Outer Hebrides to Dover and from Omagh to Swansea, and across traditional and online media. UNBOXED: Creativity is funded and supported by the four governments of the UK and is commissioned and delivered in partnership with Belfast City Council, Creative Wales and EventScotland.