Design Thinking Fundamentals Course (Summer Edition)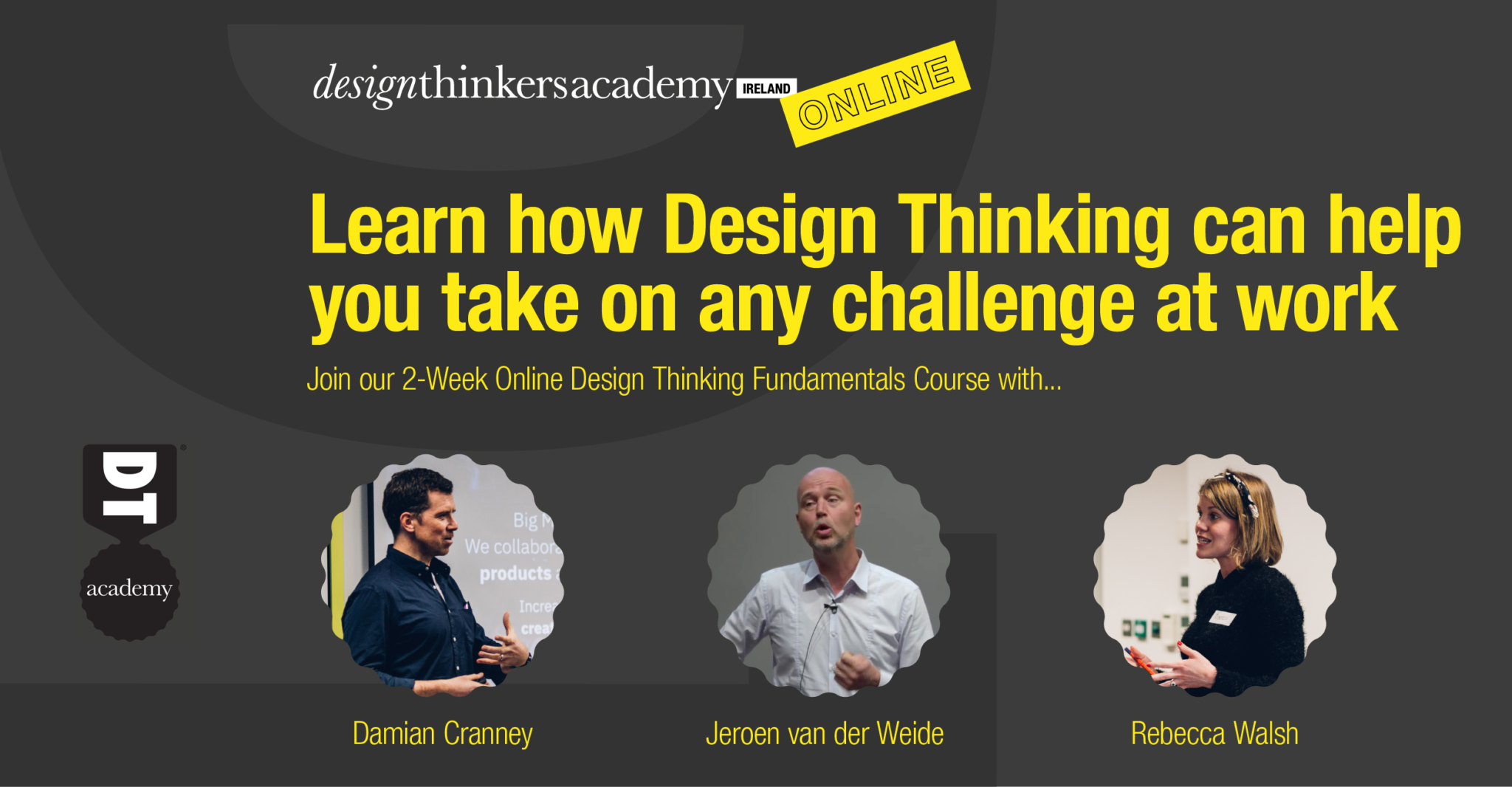 Registration for the Design Thinking Fundamentals Course (Summer Edition) is open.
We're delighted to announce a new 'Summer Edition' of our partnership with the DesignThinkers Academy, Amsterdam.
This interactive online course will equip you with the Design Thinking mindset, tools and skills to kick-start bold innovation. You will be working virtually on a human-centred challenge under live guidance of our skilled facilitators. With a combination of live classroom sessions, group assignments and homework you will gain practical knowledge and experience to apply Design Thinking in your daily work.
Program
With a combination of live classroom sessions, group assignments and homework you will gain practical knowledge and experience to apply Design Thinking in your daily work. The course consists of four modules (six sessions in total), focusing on the stages of Design Thinking: Discover, Define, Design, Deliver. Each week consists of interactive online classrooms sessions, followed by group work. A follow-up call will provide you with the opportunity to reconnect with one of your Facilitators to reflect on your experiences with implementing DT in your daily work. In small groups, together with your fellow alumni you can share your struggles and/or insights and once again learn from each other.
Key Benefits
Focus on how to implement Design Thinking in your daily work;
Live and personal guidance from our expert facilitators;
Learn to empathise with your customers and improve your proposition and strategy;
Develop your creative problem-solving skills and innovation mindset;
Boost co-creation and innovation while working remotely.
Our Approach
Over two weeks, you will meet with your fellow participants and coaches in 2.5-hour online classroom sessions. We strongly believe in learning-by-doing. A major part of this online course consists of hands-on work on a general case using the different Design Thinking tools. You will work in co-creation in small teams to learn from each other and incorporate the knowledge and skills of participants from diverse backgrounds and industries. Our expert facilitators will teach you how to use empathy when envisioning future scenarios of service for your end-users.
Certificate
After successful completion of the 2-Week Online Design Thinking Fundamentals course, participants are awarded with a DesignThinkers Academy Certificate and you can celebrate your achievement of becoming a true Design Thinker. All digital tools and materials will be available after the course for personal use.
Participant Profile
Teams from different industries who want to lead innovation;
Individuals e.g. HR, IT, Marketing looking for new tools to structure innovation and collaboration;
Professionals who want to stretch their creative problem-solving skills;
Managers who want to discover what Design Thinking can offer their team.
Facilitators & Coaches
You will be guided through the Online Course by our highly experienced Facilitators. They have years of experience in working with Design Thinking and know the tips and tricks to guide you on this online learning journey how to implement it within your working environment.
Damian Cranney & Rebecca Walsh are from Big Motive, one of Ireland's foremost strategic design studios. Both career-long advocates of human-centred design and its application to 21st-century challenges. They will be joined by, Jeroen van der Weide, a Partner and a creative-minded Senior Facilitator at DesignThinkers Academy Amsterdam. Jeroen is specialised in developing Creative Climates in organisations and helping people find solutions for business problems.
About the Event
Length: The course will last over two weeks, consisting of six sessions of three hours + homework
Time: Each session will be between 2 PM – 5 PM (BST)
Dates
Monday, August 10th
Wednesday, August 12th
Thursday, August 13th
Monday, August 17th
Wednesday, August 19th
Thursday, August 20th
Online platforms
Miro & Zoom (Language: English Max Participants: 10)
Tickets
Early Bird Ticket Price € 695, until Augst 3rd 2020 
Regular Ticket Price € 875, prices are excluding VAT.
Your ticket includes access and use of the online environments (Miro & Zoom) for the duration of the course. All tools and materials are also available after the course for personal use. A certificate from DesignThinkers Academy is awarded to participants who successfully complete the course. Discounts are available for teams signing up, Freelancers, Non-Profits and Government Organizations.